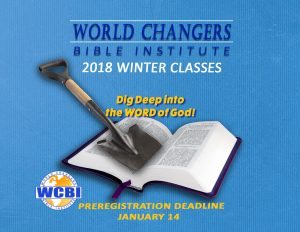 WHAT IS WORLD CHANGERS BIBLE INSTITUTE?
World Changers Bible Institute (WCBI) is an affordable and exciting Bible school designed to equip leaders of all ages for excellence and success in life and ministry. So whether you sense a calling into full time ministry, to be a light in the business world, or to be a leader in your home…these powerful classes are designed to help you grow and be more effective in your Christian life!
And since Joy Church is the home of World Changers Bible Institute, you can know that these classes will not only be informative and impartational….they will also be fun! The WCBI curriculum enhances the ability to learn God's Word and will help you to apply God's truths in your everyday personal life. So be prepared to enjoy your Bible classes at WCBI!
WCBI courses are set up on a trimester schedule with classes beginning each fall, winter and spring. The trimester consists of a Tuesday and Thursday evening course, both meeting from 7:00 – 8:50 pm, and running 9 to 10 weeks. Tuition is very affordable and any required course materials are included. A 50% discount on class tuition is available to all seniors age 60 and over who are retired. WCBI students can elect to take a course for a grade or audit the course.

Now enrolling for 2018 WINTER WCBI classes.
World Changers Bible Institute will be offering exciting life changing classes to equip you with strong biblical training to help you change your world for Jesus Christ!
Tuesday Night Class (starts January 16):
Making of a Champion

Thursday Night Classes (starts January 18):
Financial Freedom-Putting God First in Your Finances
Pre-registration deadline: Sunday, January 14
Making of a Champion

Tuesday class: January 16 – March 6
Instructor: Pastor Jim Frease
Class Time: 7:00 pm – 8:50 pm
Cost: $50
Financial Freedom-Putting God First in Your Finances
Thursday class: January 18- March 8
Instructor:  Pastor Dave Goldner
Class Time: 7:00 pm – 8:50 pm
Cost: $50
---
$20 Application Fee
(one-time fee for all new WCBI students)
*50% course discount available to Senior Saints who are over 60 and retired
Preregistration  Deadline:
Sunday, January 14
---