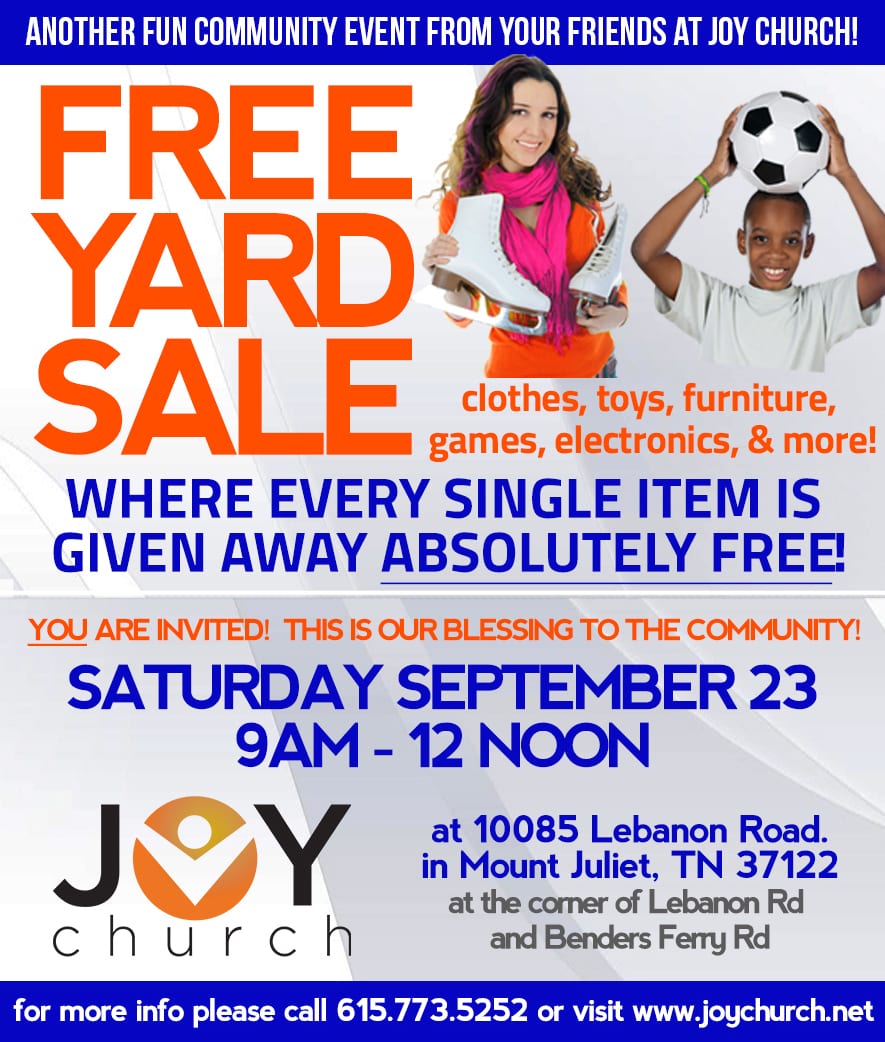 Joy Church "Free" Yard Sale & more! Saturday September 23rd from 9 am-12 noon
Joy Church is holding its 11th annual "free" yard sale! At this unique yard sale, every item is given away free as a blessing to the community. This includes toys, clothes, electronics, household items, furniture and more! In addition, Joy Church will also have a free health clinic – providing select health care services from doctors and other medical professionals! During the event, there will be free meals as well! This event will be Saturday September 23rd from 9am-12 in the parking lot at Joy Church at 10085 Lebanon Road in Mount Juliet, TN.
Visit Guest Services to find out how you can participate in this super outreach event as Joy Church continues to make a big difference for the Lord in Mt. Juliet and beyond!
"Step out of your comfort zone and into your purpose!"
Yard Sale item drop off information:
DROP OFF LOCATION – The Landing
DROP OFF TIMES
These hours may be extended depending on volume
Fri. Sept. 15                            9 AM-4 PM
Sat. Sept 16                            4 PM-4:50PM &   6:30 PM-7:30 PM
Sun. Sept. 17                          10 AM-10:50 AM &  12:30 PM-1:30 PM
Mon – Fri. Sept. 18 – Sept. 22     9 AM-4 PM (see additional hours below)
Wed. Sept 20  additional hours      6 PM-6:50 PM & 8:30 PM-9:30 PM
Thurs. Sept.21   additional hours        6 PM-9 PM              
Fri. Sept.22  additional hours          6 PM-9 PM
Please be advised that the following items cannot be accepted:
* Mattresses, Pillows
* Cribs
* Stuffed Animals
* Music Items, Records, CD's, etc.
* DVD's
* Books
 Extra Clothes Hangers and Clothing on Hangers is Appreciated!